Honest donations only, I dont give people extra privilidges because you had an extra $5 in your paypal. -Paul
There are three options for donating, $5, $10, or the 'love you 5ever' $20 donation.
To donate, do /buy ingame or visit the eurasia website: Eurasia - Community website - Home
When you donate, you will receive a prefix, a nickname, and Paul will paint for you. You also get a written letter!
The purpose of donating is to show the server your Admiration, The Staff here at Eurasia Roleplay Works Pretty hard to try to accompany all your needs!
-Staff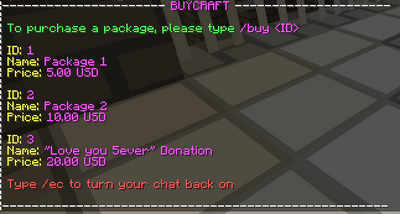 Current donators: Madviolet, Chipmunk, Herobrines_alot and Blackout (aka Kate).
Please donate and keep this amazing server running!
Ad blocker interference detected!
Wikia is a free-to-use site that makes money from advertising. We have a modified experience for viewers using ad blockers

Wikia is not accessible if you've made further modifications. Remove the custom ad blocker rule(s) and the page will load as expected.